Lawmakers in Louisiana are rightfully concerned about the impact the Gulf of Mexico oil spill started at Deepwater Horizon will make on their state. If only there weren't so many gays in New Orleans, perhaps God would have been less cruel to the Big Easy.
That's why state Senators designated today (Sunday, June 20) as a day of prayer.
"Thus far efforts made by mortals to try to solve the crisis have been to no avail," state Sen. Robert Adley said in a statement released after last week's unanimous vote for the day of prayer. "It is clearly time for a miracle for us."

The resolution names Sunday as a statewide day of prayer in Louisiana and calls on people of all religions throughout the Gulf Coast "to pray for an end to this environmental emergency, sparing us all from the destruction of both culture and livelihood."
Because that will make a big difference.
Seriously, I'm sure that oil will stop gushing almost immediately with the force of all those prayer vibes.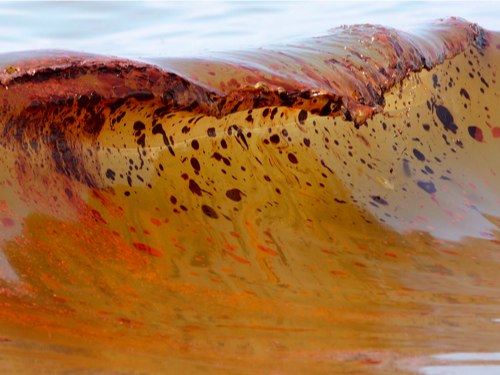 Except of course that it won't. In fact, the situation is getting worse, as oil is now leaking directly through the seabed.
I would argue that not only is a day of prayer utterly ineffective, but encouraging such nonsense is counterproductive.
Let's be clear here: This oil spill is our fault. It's not a natural disaster; it's not an "act of God." This is the result of human greed, plain and simple.
And every single time I see a Sarah Palin or Rand Paul type figure saying "accidents happen" and defending off-shore drilling, I just feel sad for them, because they are part of the problem. They want corporations to reign supreme.
This is my biggest beef with American conservatives. Democrats are willing to criticize the government, but Republicans (and teabaggers) are never willing to criticize big business. In fact, they do everything they can to obfuscate controversy to protect the corporations' reputations and unrestrained freedom to abuse our land and people for their own benefit.
Today's call to prayer is part of this obfuscation effort.
As always, prayer is being used here to avoid responsibility. As the resolution's proponent, Sen. Robert Adley, said, "Thus far efforts made by mortals to try to solve the crisis have been to no avail." His suggestion is essentially that since we have not been able to stop it, we should stop trying. It's out of our hands. We should just curl up in the fetal position kneel in the prayer position and literally hope for a "miracle."
Guess what? God's not going to stop the oil. (Besides, isn't it part of God's plan? Why would God put the oil down there if he didn't want us to try to get it, regardless of the consequences?)
Let's say that 50% of Louisiana's citizens spend just ten minutes praying for an oil spill miracle today. (I made those numbers up.) Surely those 2 million people could spend ten minutes actually doing something to help with spill recovery. I don't know much about oil spill recovery, but there are always ways to help. Instead, these folks will waste ten minutes not helping with recovery, because they'll be busy communicating with a voice inside their head.
Another reason this prayer plan is a bad idea? It'll make people feel better. Yeah, prayer is meditative (so is meditation, by the way) and might help bring hope to the people of Louisiana. What an awful idea. We don't want people feeling good. We don't want people feeling relaxed. We don't want people thinking that God's going to take care of this.
We want people pissed. We want people demanding accountability. We want people ready to take action. Hell, we want people taking action now.
So come on, Louisiana lawmakers. How about we stop wasting time pacifying citizens and protecting corporations with constitutional violations and actually rally people to help with the recovery?